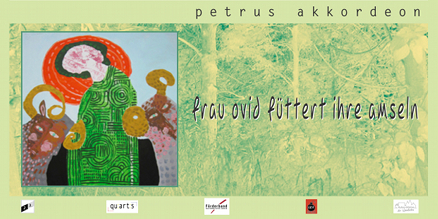 Mrs. Ovid feeds her blackbirds

10 September to 29 October 2010

Petrus Accordion is a dazzling personality in the Berlin art scene. For a long time, his work has been limited not only to the classical forms of expression in the visual arts. In addition to numerous exhibitions and book publications, he works as a performance artist in the poetization of everyday life. Here, too, he suggests an arc from the printed work to temporary word installations in the city. With his artist friend Georg Kakelbeck, he founded the non-commercial "Kunstkampfverlag" in Berlin in 1999. This publisher acts on the street. Poems and pictures are installed directly on the streets of Berlin and other European cities. These works can not be bought, they want to be experienced.
| | | |
| --- | --- | --- |
| | | |
 In addition to the art work Petrus Akkordeon also deals with the concerns of nature. His interest is in the future equality of plant, animal and man. He believes in it. Until then, as a guerrilla gardener, he digs the city and plants or makes people aware of the wonders of wild herbs.

In this exhibition, Petrus Accordion, after many years of painting rejection, shows a series of new pictures, which for the most part were created during the summer of 2010 for this exhibition.